The original... sequel... homepage for musicals reviews!
By Mallory Bolduc
The Sequel


---

Welcome!

Here is my homepage dedicated entirely to one thing - musicals. I will keep everyone updated on the musicals I see, even though I have had a head start. I'm not sure that many people really like musicals, especially other 12 year olds. But, for all those people who do, here it is. A homepage with reviews, comments, and facts.
How much do you really love musicals? Enough to use my I Luv Musicals?:>
Check out Mallory's Musical Homepage, Part 1
Check out my birthday tribute to Gene Kelly
Go to my Dana Andrews fan page
My e-pal and my Fred Astaire Fan Club
My very own (and very small) Classic Movie Homepage !
Check out my very own You Might Be Obsessed With Musicals If....
Like classic movies? Check out the AMC (American Movie Classics) Homepage for info on memorabilia, classic shows, books, and a chatline!
Anyone else out there love AMC's original series, Remember WENN?
Added September 8, 1996: Congratulations, Remember WENN, for the Emmy Nomination: Irene Worth, Best Guest Star in a Comedy Series! :>
Want a different point of view? Check out Elyse's Musical Reviews !
---
This page was started on September 20, 1996.
Little Miss Broadway - Starring Shirley Temple, George Murphy, with Jimmy Durante
This is a pretty good movie with a great cast and great songs. It's good for anyone who doesn't mind another "little orphan girl who everyone loves" plot. Score includes Temple-Murphy duet "We Should Be Together", title tune. Rating: 6 1/2 stars
Note: It's kinda weird; I guess I watch too much George Murphy. I'm starting to talk like him. Huh.
---
White Christmas's review is here
---
The Sky's the Limit (1943) - Fred Astaire, Joan Leslie
This is a great movie! I loved the dances, the songs were swell, and it had a great plot and story! Fred is a Flying Tiger, trying to escape the war by disguising himself as Fred Burton, and Joan is a photographer. Score includes the wonderful, terrific "A Lot in Common", Fred's perfect "One For My Baby (And One More For the Road)", and two great versions (I prefer Fred's) of "My Shining Hour". Rating: 9 stars
P.S. It took me a while to get this joke, but in "A Lot in Common", the song goes "Where's Cagney" (Joan said that) and "Where's Hayworth" (Fred says that). The year before, Joan Leslie starred opposite James Cagney in Yankee Doodle Dandy and Fred Astaire was with Rita Hayworth in You Never Were Lovelier!
P.P.S. The songs are Johnny Mercer.
---
Silk Stockings (1957) - Fred Astaire, Cyd Charisse, with Jules Munshin and George Tobias
Oh, gag. If you ever get tired of worthwhile movies, see this. Please. Remake of Ninotchka. Three Russians come to Paris (and decide not to return), so Tobias sends Ninotchka (Charisse) after them. She meets Astaire, blah, blah. Score includes "Stereophonic Sound" (which I almost enjoyed), "Silk and Satin" (which someone else may almost enjoy), and "Too Bad (Too Good To Be True)" (which is impossible to enjoy). Hermes Pan does Fred's dances. Rating: 2 stars. Pitiful.
---
Second Chorus (1940) - Fred Astaire, Paulette Goddard, Burgess Meredith, Charles Butterworth
This movie brought me to three conclusions: 1)Burgess Meredith is weird, 2)Paulette Goddard is annoying, and 3)Artie Shaw rocks! Fred Astaire is better doing song-and-dance to Artie Shaw music than to Berlin or Gershwin (as long as his voice doesn't carry - he doesn't sound like he's serenading or something unless it does), and this show proves Burgess Meredith a character. Each song (almost): "(I'm Not Hep To That Step) But I'll Dig It" - my favorite! The dance is just a few Irishes, hops, and no-flap buffalos, but the keen way all the steps are put together makes it a great dance. It's also my favorite song, ever! Next, "How'd Ya Like To Be The Love Of My Life?" - pretty good, but not elaborated on much. BTW, in "But I'll Dig It", I loved Fred's mocking the polka! Rating: 8 stars
---
That Thing You Do (1996) - Tom Hanks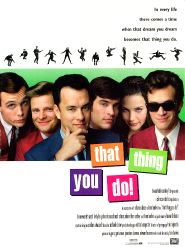 This is the most current movie I have reviewed so far, but it is a musical that takes place in the '60s, so I think it counts. This is about a band called the Wonders (originally the Oneders; "So, you're the Oneeders?" "It's Onedders."). Score by Tom Hanks and Howard Shore (I believe) includes "Lovin' You Lots and Lots", "That Thing You Do". Rating: 7 1/2 stars (for a current musical, pretty good)
Note (added 6/4/97): Why a review that low? Well, believe me, this is a hilarious movie and all, but musical-wise.... I still recommend this.
---
Broadway Melody of 1940 (uh, let's see... 1940.) - Fred Astaire, Eleanor Powell, George Murphy
This is about two ex-stars (or were they ever stars?), King Shaw (Murphy) and Johnny Brett (Astaire), and a Broadway star, Clare Bennett (Powell). When a producer comes looking to give Johnny a break to play opposite Clare in her next show, Johnny thinks the producer is actually a bill collector, and says his name is King Shaw. King gets the break intended for Johnny, but they both fall in love with Powell and want to dance with her. Pretty good. Dancing's not bad, and the songs are great! Score by Cole Porter includes (my favorite) "Don't Monkey With Broadway", "I've Got My Eyes On You", and (the song that got more fame than deserved) "Begin the Beguine". Rating: 8 stars
Note (added Thanksgiving (Nov. 28), 1996): Check out my trivia on this!
---
Young People (1940) - Shirley Temple, Jack Oakie, Charlotte Greenwood
Touching (?) tale about a vaudeville family that retires to live in a quiet town where they're hated. Not that bad. Score includes "On 5th Avenue", "We're Not Little Kids Anymore", and something about a million dollars, I forget. Actually, I doubt any of those song titles are very accurate; I saw this at 8:30 in the morning, give me a break. Rating: 7 stars
---
Babes in Arms (1939) - Mickey Rooney, Judy Garland
Gag. They lost me on who wrote the songs (Rodgers & Hart, I think). Not-so-bad acting on the kids' parts, but Mickey's impression of Lionel Barrymore and Clark Gable bore me. It started out almost promising; trust me, it gets worse. Score includes "I Cried For You".
Rating: 5 stars (being generous)
---
Thousands Cheer (1943) - Gene Kelly, Kathryn Grayson, many guest stars
This movie's swell! I loved the beginning, so please e-mail me how you like it; I don't want to give anything away. :> This movie makes you not want to slug Kathryn Grayson (see Anchors Aweigh) . That's good. She has great acting and a few more non-operatic songs. I guess the director doesn't trust Gene Kelly's voice yet (he doesn't sing a word; we might be lucky), but at least he gets to hoof (with a broom and mop - at least it's something). Also, in the scene(s) where Gene Kelly is either on the trapeze or swinging around a bar like a gymnast, they either have a really good stunt man (who looks a lot like Gene Kelly) or he's more talented than we thought (at more things than we thought, that is)! Movie includes a production with guest stars like: June Allyson, Gloria DeHaven, and Virginia O'Brien in "'Twas On a Night Like This" (I LOVED this one!), Lucille Ball, Victor Moore, Ann Sothern, +some in a bad act, and Red Skelton and Margaret O'Brien in another okay act. Score includes "I Dug a Ditch (In Witchita)", "Let There Be Music". Rating: 9 stars (Mickey Rooney, host of the production,'s impression of Lionel Barrymore loses this one point. Does he have no personality of his own?)
---
Roberta (1935) - Randolph Scott, Irene Dunne, Fred Astaire, Ginger Rogers
Great movie! The acting is great, the dancing is wonderful, and this has a Jerome Kern score better than any others. It is Irene Dunne, though, so bring earplugs (not singing!). I loved Fred and Ginger's dance to "Smoke Gets In Your Eyes", but I think the dance should've taken place when Irene was singing it, even though after the final fashion show was fine. It's a nice note to close on. "Lovely To Look At" was, of course, great. I especially liked Fred and Ginger's song duet, "I Won't Dance". I also adored "Let's Begin" (the first song, a wonderful note to start on). And I liked "I'll Be Hard To Handle". Okay, that covers my favorite songs. Bet you didn't know "Smoke Gets In Your Eyes" was Jerome Kern. I didn't until I saw this movie! Rating: 9 1/2 stars (It matches Swing Time on a scale of my favorite Fred-Ginger movies, and could maybe come very close to Top Hat if it starred Fred and Ginger.)
---
42nd Street (Forty-Second Street) (1933) - Ruby Keeler, Dick Powell, with Ginger Rogers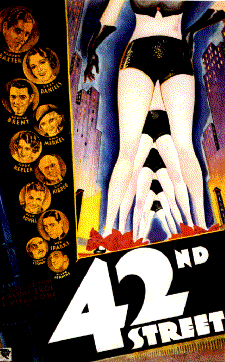 Swell. Pretty swell. Very swell. I don't know, it's pretty good. It's equal to a PG Rating, I'd say, because of a violent relationship-abuse scene in the closing song "42nd Street", and most of the movie. This shows the hope and heartbreak of life as a chorus girl and in Broadway business. Ruby Keeler is a first-time chorus girl when the star of the production breaks her ankle and Ruby has to replace her. Score includes "42nd Street" (love it), "Shuffle Off To Buffalo" (love it), "You're Getting To Be a Habit With Me" (love it). Rating: 7 1/2 stars
Note (added 1-6-97): Practically same everything in Dames!
---
Let's Dance (1950) - Fred Astaire, Betty Hutton
Pretty good. Betty has a son, and her grandmother's trying to take him away from her. Fred loves her, and tries to get her to marry him. Not bad. Score by Frank Loesser includes "Tunnel of Love" (my favorite, great dancing, singing). Rating: 6 1/2 stars
---
A Damsel in Distress (1937) - Fred Astaire, Joan Fontaine, George Burns, Gracie Allen
Yes, I own this. Just thought I'd get that across first. Well, this is a good movie. :> I loved this especially for the great Gershwin score; it's the last movie with songs written by George and Ira Gershwin for it. (You know, George died later in '37.) I couldn't decide who starred, though, Gracie or Fred. (Well, okay, Fred.) Gracie steals her scenes with cracks, and even gets her own vocal. :> Score includes Gracie's "Stiff Upper Lip" (included in this dance is, well, just watch their legs when they're standing listening to Gracie sing, and they also have the mirror dances -- it is an amusement park sort of thing -- and that turning tunnel), an instrumental of "Put Me To the Test" (I think -- I've never heard the song, but I read off the IMDB about that), listen to the choir + Fred croon "Nice Work If You Can Get It" and "A Hey and a Nonny" (or something to that effect), "Things Are Looking Up", "A Foggy Day", and "I Can't Be Bothered Now". Rating: 7 1/2 stars Revised Rating (see note): 10 stars
Note (added 11-19-96): I changed my mind. Add another 2 stars. If this was Ginger, it'd be neck and neck with Top Hat (I feel bad about thinking that, because this was Fred's first movie without her, and a nice start, too). Hey, give it another 2 1/2 stars.
---
The Gay Divorcee (1934) - Fred Astaire, Ginger Rogers, Edward Everett Horton, Eric Blore, Erik Rhodes, a dance with Betty Grable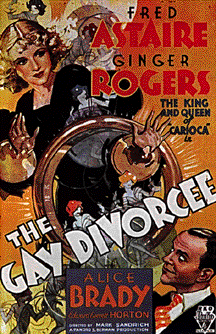 Ever seen Edward Everett Horton hoof with Betty Grable to "Let's K-nock K-nees"? Ever seen Eric Blore do his own little dance to a tune? Ever seen Fred and Ginger's FIRST KISS? Ever seen Erik Rhodes sing "The Continental"? Hey, ever seen Fred and Ginger in closed caption? I've seen all of these, folks, and it's not that bad. And it's all in this movie, too. Keep your ears open for a little "I'm not sorry!" from Fred, or Edward E. Horton ($5 he was named after E. E. Hale) walking around holding his knee with Betty Grable by his side. BTW, in this movie, Betty Grable was only 17! Reworked as Top Hat - is it any wonder I liked this movie? Fred and Ginger's first real flick with starring roles. That's the way to do it; just take a Cole Porter musical, keep one song and make it star Fred and Ginger! Score includes the award winning "The Continental" (it has a passion, you know, The Continental....), "Let's K-nock K-nees", "Night and Day", and, my near favorite (next to Night and Day), "Needle in a Haystack". Rating: 8 stars
---
Royal Wedding (1950, I think) - Fred Astaire, Jane Powell, Peter Lawford, with Keenan Wynn
Nice. Some great song and dance highlights. Fred and Jane play a brother-sister dancing team. Score includes the swell "How Could You Believe Me", the swell "You're All the World To Me" (Ever seen Fred hoof on the ceiling? See this.), and the really swell "I Left My Hat in Haiti". Something to see whenever you get a chance, even though it's not all that good.
Rating: 6 1/2 stars
---
Follow the Fleet (1936) - Fred Astaire, Ginger Rogers, Randolph Scott, Harriet Hilliard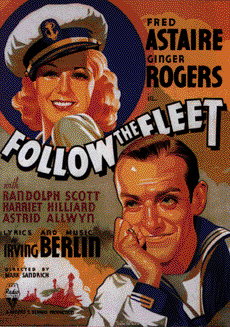 Swell! This is a great musical, with great dance routines, great Berlin songs, and great acting! Catch Lucille Ball and Betty Grable in this one. This show shows more of Ginger's talent than others - catch her solo in the try-out version of "Let Yourself Go", not to mention her and Fred matching steps in the dance contest "Let Yourself Go". Harriet sings too much (that's... two songs). Other score includes Hilliard's "Get Thee Behind Me, Satan" and "My Dreams and I Are Here (But Where Are You?)", "Let Yourself Go" (I had to say this again - it's the best song!), "We Saw the Sea" (second best -- the lyrics are funny, listen), and Fred in tails for "Let's Face the Music and Dance". That sailor suit look really does not go for Fred. Don't miss more than the first 15 or 20 minutes of this - miss 25 and miss Fred and Ginger doing "Let Yourself Go"! You have to see that! You must! I order you! See this! Or, just see that dance! Sorry. I'm okay. Rating 8 1/2
Note (added 12-20-96): Did I forget to mention Fred and Ginger's only purposely gagged-up duet, the wonderful "I'm Putting All My Eggs In One Basket"? Well, silly me. BTW, this movie really does show how wonderfully Fred and Ginger can dance together, with all but one or two of their dances being a duet. Great going!
Note (added New Year's Eve, 1996): If you watch very closely, you can just see Fred being slapped in the jaw by Ginger's heavy beaded dress during the dance number, "Let's Face the Music and Dance". BTW, notice, when Fred punches Randolph (on the ship, toward the end), he really punches him! And Fred, being a, well, worry-wart, was very relieved when Randolph didn't get mad. After all, it's just a bloody lip. =>
Note: Fred and Ginger must really do stuff with that bugle call -- see Roberta and The Gay Divorcee (I think.... =>). BTW, thank me, I added the above-above (Randolph & Fred thing) trivia to the IMDB. =>
---
Road to Morocco (1942) - Bing Crosby, Bob Hope, Dorothy Lamour
One of the famous Bing and Bob "Road" flicks. They're poor and alone in Morocco when Bing decides he likes money more than he likes Bob, thus selling his companion. Great tunes include title song, "Moonlight Becomes You", . Rating: 8 stars
Note (same day thing): I love when they step out of character. For instance, in title tune, hear them say something to these effects: "And maybe we'll meet Dorothy Lamour!", "Paramount will protect us 'cause we're signed for five more years!"
Hey, I'm getting confused. Maybe too many Roads in a row can get to you. I'll review the rest later, as well as add to this one, on Monday afternoon, December 23rd, or Tuesday, maybe, when I resee these darn flicks and get them straight. Too bad, too. I was looking forward to reviewing the one with Bob as the human bullet. Darn. Whatever.
Here we are! I've seen it again now, so I'll just review this one. Well, it's still a "Road". Bing still sells Bob to a slave trader in Morocco. Songs include Bing's "Ho-Hum", duet title tune, "Moonlight Becomes You". Notice that the camel spits in Bob's eye - that wasn't in the script. He really spit in Bob's eye. Ick. And when they're being chased by a stampede, well, the crew didn't exactly plan on how to get Bing and Bob out of this calamity. Just in time, they jumped out of the way. Paramount protect them, ha. Rating: 8 stars. This is their best.
---
Summer Stock (1950) - Gene Kelly, Judy Garland, Gloria DeHaven, Eddie Bracken, Phil Silvers
A... unique musical. Judy Garland comes back from renting a tractor (she lives on a farm) to find a crowd of actors and stage hands in her barn! Right in the midst of everyone is their leader, Gene Kelly. Judy's sister, DeHaven, had given permission for them to perform at the farm. Unlucky for everyone, though, Gene brought Phil Silvers along. A musical love... square... with dances and songs every other step. (I hear Judy was a little wack while
filming - she filmed "Get Happy" last when she felt better, compared.) I went into watching this movie thinking, "Great. All I have left to see is Gene Kelly hoofing on a table, dancing on a newspaper and squeaky floor board, in tails, imitating farm animals, and in jeans and a plaid t-shirt." I saw the jazzy "Dig, Brother, Dig" ("All I have left to see is Gene Kelly dancing on a newspaper and squeaky floor board, in tails, imitating farm animals, and in jeans and a plaid t-shirt.") I saw the instrumental (after the words with it, of course) to "You, Wonderful You". ("All I have left to see is Gene Kelly in tails, imitating farm animals, and in jeans and a plaid t-shirt.") I saw "It's All For You" (I think). ("All I have left to see is Gene Kelly imitating farm animals and in jeans and a plaid t-shirt.") I saw "It's Heavenly Music to Me". ("All I have left to see is Gene Kelly in jeans and a plaid t-shirt.") I saw the ending number. I've seen it all. Rating: 9 stars
Note (12-23-96): Judy's last film with MGM. My copy also had Judy's first film, the short subject "Every Sunday" with Deanna Durbin.
---
Road to Utopia (1945) - Bing Crosby, Bob Hope, Dorothy Lamour
A nice "Road" picture. See this one for the swell songs. Score includes "Good-Time Charlie", Lamour's "Personality", Bing and Bob's "Put 'er There", and something about money. Pretty good. Rating: 7 stars
---
My Gal Sal (1942) (and color, too!) - Rita Hayworth, Victor Mature, with Phil Silvers
Rita is singer Sally Elliot. Victor Mature is Paul Dresser, a songwriter who's in love with Sally. I can't say that Victor Mature is at his funniest -- this is my first movie of his!-- but it's got to be close. I don't know if there are Victor Mature fans out there who think this is his funniest. I don't even know if this is his only musical, though I doubt that. Anyways, catch co-choreographer of this flick (and famous choreographer with Fred Astaire) Hermes Pan with Rita in "Gay White Way". Score includes title tune, "Banks of Wabash". Based on book, My Brother Paul. Rating: 8 1/2 stars
---
Carefree (1938) - Fred Astaire, Ginger Rogers, Ralph Bellamy
Let's see... in my attempt to make this not-confusing, I'm going to use all names. Ralph loves Ginger, but Ginger doesn't love Ralph. Ralph takes Ginger to a psychiatrist, Fred. Ginger falls in love with Fred, so Fred, in friendship to Ralph, hypnotizes Ginger into loving Ralph. Then, Fred realizes he's in love with Ginger, but Ginger doesn't like Fred anymore. Good luck getting her back, though, when Ralph gets a restraining order against Fred. This is a really swell... gee, I don't know, girl movie, I guess. Romantic and funny. Notice, in Ginger's dream ("I Used to be Color Blind"), the whole dance is in slow motion, including the ending kiss. One day, when the crew and cast of Carefree were replaying this dance, Phyllis, Fred's wife, walked in right at the kiss. She said to Fred, "Making up for all those kisses you haven't had?" (Or something like that.) This show has its memorable moments, including "I Used to be Color Blind", the part where Ginger is under anesthetics and gets loose from Tony(Fred)'s care, Ginger telling Fred her made-up dream, and when Jack Carson is faking a long distance phone call from Hawaii to Ralph. (Gee, when Fred sang "Change Partners", he kept his word! See what I mean and watch the movie.) This movie really made me cry -- in fact, it may be the first movie I cried at in which I had a good reason to cry (as opposed to Shall We Dance, for instance)! The wonderful Berlin score includes "Change Partners", the trance dance to the tune of "Change Partners", "The Yam", Fred's golf dance, Fred playing the harmonica while having a patient circle the room -- stress relieving?--, "I Used to be Color Blind". Rating: 9 stars
---
It's Always Fair Weather (1955) - Gene Kelly, Dan Dailey, Michael Kidd, Cyd Charisse, Dolores Gray
This is about three Army buddies who split up in '45 and agree to meet at the same bar ten years later. It turns out that in a decade, they have nothing in common -- Dan has become an artist, Michael, a chef, and Gene, a gambler. The three don't agree on anything, but even more trouble comes when Gene doesn't pay up on a bet and has to make a mad dash to escape. Swell dancing -- what did you expect from three choreographers? -- and nice songs, too. Score includes "You Knock Me Out", "Though the Time Has Come For Parting", "Once Upon a Time", "I Like Myself" (Gene Kelly's turn for skates), "Thanks a Lot but No Thanks". Don't see this if you're looking for a feel-good movie, but if you like sad and kinda funny musicals, see this one. Rating: 7 stars -- It's a little slow with the plot.
---
You'll Never Get Rich (1941) - Fred Astaire, Rita Hayworth
Rita's chorus dancer Sheila Walthrop, Fred's choreographer Robert Curtis, and this show's a peach when it comes to swell Cole Porter tunes and really good dances by Robert Alton. Fred makes a mad dash for the Army when he thinks Rita's "brother" is out to shoot him. Little does he realize that the brother is really Rita's steady, a lieutenant. Fred works himself up more than two weeks in the guard house, but lucky for him his old dancing team comes around, wanting to do a show for the army. Fred insists on doing the dance with Rita, but the boss has a different plan -- he wants Fred to dance with Sonja, a new girl. And the boss has every trick up his sleeve to make Rita leave for Panama with her possible lieutenant fiancee and force Fred into partnering with Sonja. Good songs, not that much singing, though. I can't wait to see You Were Never Lovelier, Fred and Rita's other movie! Score includes "Shooting the 'Works for Uncle Sam", "So Near and Yet So Far", the opening dance to "Boogie Barcarolle", "March Milastaire (A-Stairable Rag)", and "The Wedding Cake Walk" closing sequence. Hey, I liked it.
Rating: 8 1/2 stars
---
Dames (1934) - Dick Powell, Ruby Keeler
Something (yet something swell) about cousins in love with each other? Well, that's the part of the plot I didn't understand. Anyway, Powell is in theatre (songwriting, singing, whistling, and a few other things). He's dating Keeler. Her uncle comes to visit her house, offering them $10 million if he likes them. One problem: He can't stand Powell, but with Keeler in the house, chances are his visits won't be rare. More trouble arises when they both join a show. Really swell Busby Berkeley numbers include "I Only Have Eyes for You", "Dames". Rating: 7 1/2 stars
Note: Same almost everything as 42nd Street!
---
Tell me where my review of The Little Princess should be!
---
By the Light of the Silvery Moon (1953) - Gordon MacRae, Doris Day
A really cool musical. Not only were the songs swell, but they threw in some nice dance steps, too, and, of course, a couple of love triangles. Sequel to On Moonlight Bay. Score includes the wonderful and cheery title tune, another nice tune MacRae sings, with some steps some people may call dancing, and "I'll Never Forget You". Rating: 7 stars
---
Song of Scheherazade (1947) - Jean-Pierre Aumont, Yvonne DeCarlo, Brian Donlevy
A bio-flick about how Russian composer Nikolai Rimsky-Korsakov (Aumont) came to write Scheherazade, Flight of the Bumblebee, and others. Surprisingly good! => Funny and romantic, with a nice finale showing the Scheherazade ballet. Rating: 8 stars
---
Mr. Holland's Opus (1995) - Richard Dreyfuss
Saw this a long time ago in the theater, but it took me a while to realize this was a musical (duh). Anyway, a nice crying movie with a swell soundtrack, plus the high school's production: a tribute to George and Ira Gershwin! That part includes the songs "I Got Rhythm", "Someone to Watch Over Me". Recommended. Rating: 8 1/2 stars
---
Evita (1996) - Madonna, Antonio Banderas
Well... ick. This movie had its moments, but overall, I don't think it was very good. Depressing, slight humor at times. My cousin's friend, who had even been to New York and had seen Andrew Lloyd Webber plays on Broadway, didn't like it, either -- she walked out of it! But I, as a critic, did actually sit through the whole thing... the whole 2+ hours.... Nothing I would see again. Rating: 4 stars
Note (added 4/4/97): Okay, maybe if you're an Andrew Lloyd Webber type of person, you would like this. Whatever.
---
The Big Broadcast of 1938 (1938) - W.C. Fields, Bob Hope, Shirley Ross, Dorothy Lamour, Ben Blue
Hilarious! W.C. Fields does his famous golf course scene. Bob Hope and Shirley Ross perform what became Hope's theme song, the Academy Award winning "Thanks For the Memories". Dorothy Lamour sings "You Took the Words Right Out of my Heart". Martha Raye does a whimsical version of "Mama, That Moon is Here Again". Ben Blue Charlestons, choruses can-can and polka, and Shirley Ross sings (as well as dances with Bob Hope) to "The Waltz Lives On". But, in my opinion, one of the funniest scenes I've ever witnessed is with Patricia Wilder -- the girl who wants to "disgrace" her parents -- and Bob Hope! My most recent buy, and my choices for purchases haven't gone wrong yet! See this if you're in the mood for a laugh! Oh, I suppose you want a plot. Four-timer Buzz Fielding (Hope) bets $50,000 on the ship he's riding on, the Gigantic, for a race. Rating: 8 1/2 stars
---
The Jazz Singer (1927) - Al Jolson
The first talkie is pretty quiet, except for the songs, and when it sings, it sings believably; very good for a first. Star-spotting alert: Catch Myrna Loy as a chorus girl! A nice movie -- after what we're used to, though, it may not seem like much! (One downfall of silent movies, though: You can't read and watch -- listen, that is -- at the same time! =>) Well, pretty good. Song include "My Gal Sal", "Blue Skies", "Toot, Toot, Tootsie, Goodbye". Rating: 7 stars
---
White Christmas (1954) - Bing Crosby, Rosemary Clooney, Danny Kaye, Vera-Ellen
Eh. It was okay. Great songs, nice performances, but the plot and story lack. Each, uh, partnership (Kaye and Crosby, Clooney and Vera-Ellen) has one of the partners trying to get the other to loosen up. Originally Fred Astaire in place of Danny Kaye, but Fred didn't like the script. Donald O'Connor was his replacement, but, due to injury, he backed out, and here came Kaye. Score by Irving Berlin includes "Count Your Blessing Instead of Sheep", "Sisters", "Love, You Didn't Do Me Right" (or something like that), "Mandy" (the swell Berlin version, of course), and short, er, excerpts from "Blue Skies", "Let Me Sing and I'm Happy", and more. I think my review may start a small controversy -- a lot of the people I spoke with thought of this as their favorite holiday movie ever. Dunno. It was okay (I repeat myself =>).
Rating: 7 3/4 stars =>
---
The Pirate (1948) - Gene Kelly, Judy Garland, Walter Slezak, the Nicholas brothers
What a movie. Really weird, but cool. Something about the town mayor being a previous notorious pirate, but to cover up for his for the time being, an actor pretends to be him. I think. =b Really, really, cool, with groovy costumes, nice Cole Porter songs, and swell dances. Score includes "Be a Clown" (see note), "Mack the Black". Rating: 8 stars
Note (same day thing -- Easter '97): "Be a Clown", by Cole Porter (duh), was copied very, very losely by Arthur Freed for Singin' in the Rain; but that didn't go unnoticed. During one rehearsal for Singin', Irving Berlin was watching. He recognized the song "Make 'Em Laugh" as this Cole Porter tune. He went up to Arthur Freed and suspiciously asked, "Who wrote that?" Arthur Freed politely told Irving Berlin to get lost.
---
Hans Christian Andersen (1952) - Danny Kaye
A fairy tale about the fairy tale writer (obviously :>). I thought the plot was lame, and, please, a ballerina? Other than that, it's nice. Whatever. Still, the songs by Frank Loesser give the movie a few extra points (they're not his best, but they pass for good). Score includes "Hans Christian Andersen" :>, "Thumbelina", "The Ugly Duckling", "No Two People", and the big ballet, as I call it, "The Little Mermaid". Rating: 7 stars
---
The Wizard of Oz (1939) - Judy Garland, Jack Haley, Ray Bolger, Bert Lahr, Frank Morgan
Hmm. What do I say? After all, chances are that if (by rare coincidence) you haven't seen the movie, you've read the book. But, anyway, my turn. A really really really great musical, with a practically perfect cast to fit the occasion (I personally could imagine no one but Jack Haley as the Scarecrow, and Judy Garland does fit in =>). (I must say, though, that if Pauline Kael ever got a hold of this flick, she'd kill it.) Great songs, including the almost-cut "Somewhere Over the Rainbow", the wonderful "If I Only Had a Brain". Another quick say: The crew's "ideal" Dorothy? Shirley Temple. A close second was Deanna Durbin. I guess we really could call this a lucky break for Judy, couldn't we? => Wizard was the winner of three Oscars; nominations include Best Picture (but it lost to Gone With the Wind). Rating: 8 1/2 stars
Ooh, ooh, a voice clip! Special thanks to Brent Pennell for that one.
---
Cats Don't Dance (1997) - Voices of Scott Baluka and Jasmine Guy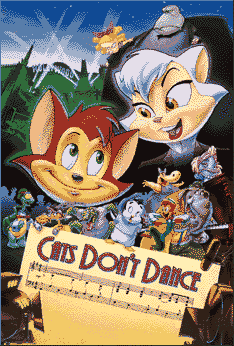 I admit, I'm almost embarrassed to review this cartoon. =b But I have to say, it didn't stink. (I have to give credit to those artists who drew cats tap dancing. =>) Anyway, this had nice songs and nice songs... oops, repeat. (J/K. =>) I can't hand much to the story -- it was awfully corny, as most G-rated cartoons are. Natalie Cole's singing voice for Jasmine Guy's character wasn't very believable, and this had some pretty weird and ironic coincidences, but I still have to hand it to the songwriters. Score includes "I Got Rhythm" (no, not the Gershwin one), "Big and Loud". If I didn't know any better, I'd think that that mean little movie star was based on Shirley Temple (shame on this flick, if so).... BTW, look quick for Jimmy Durante, Bette Davis, Clark Gable, and others. (Did I mention it was set in the 1930s?) Anyway.... Rating: 6 1/2 stars
Note (added 4/25/97): Of all things to forget! =b Anyway, this film was dedicated to Gene Kelly. (Makes me cry... I'm one of those sentimental people.)
---
Seven Brides For Seven Brothers (1954) - Howard Keel, Jane Powell
A nice musical about, well.... Okay. When the oldest brother (Keel) of seven gets married to Powell, they try to find brides for the other (rowdy) six brothers. Because of loss of a better plan, they kidnap the desired female and cause the whole town to start looking for them. Really cool. Great dances by legendary choreography Michael Kidd stand out. Score includes "The Sobbin' Women". Rating: 8 stars
---
Daddy Long Legs (1955) - Fred Astaire, Leslie Caron, Fred Clark
Golly, what a swell movie. Speechless. :> This is a really really really really really good movie about a millionaire who decides to anonymously sponsor a French orphan. You know how that goes. :> Anyway, really really really really really good songs by Johnny Mercer are just the beginning of the, well, great-ness of this flick. See it. Please. I'm begging you. Pretty please. Great, swell, magnificent, jazzy, romantic, funny... see it. Anyway, off/on-subject, while filming this, Fred's wife, Phyllis, died of lung cancer (she was a long-time smoker). He didn't want to continue filming, but was convinced to go on. (I added that to the IMDb, BTW. :P) Well, just see it. Pretty please. Score includes "Something's Gotta Give", "Slewfoot". Mitzi Gaynor was original choice for the role of Julie Andre (Caron's part), but Fred personally requested Leslie Caron. Rating: 9 3/4 stars
---
DuBarry Was a Lady (1943) - Red Skelton, Lucille Ball, Gene Kelly
Don't kill me for giving Gene Kelly third billing -- that's what he got in this, his second, possibly third film! The main reason I didn't like this movie was the fact that they didn't spend much time on the plot -- much was a flashback with "King Louis", "DuBarry", and "Black Arrow". Still, the Cole Porter songs were swell, so if you don't care for seeing the flick (the dances are great, though, and I recommend renting this just to see Gene Kelly possibly at his best, or at least almost his top =>), at least check out the soundtrack. =b Score includes "Friendship" (Gene's got that For Me and My Gal look again), "If You Don't Love a Lovely Girl", and "DuBarry Was a Lady"-- ahem, title tune. :> Rating: 7 stars
---
Gigi (1958) - Louis Jourdan, Leslie Caron, Maurice Chevalier, with Eva Gabor
A lovely musical about... well, that I'm not sure of. Just kidding, it's just kind of hard to explain. Hmm.... Well, anyway, I definitely recommend this. The score is wonderful, with a charming plot and story. Score includes "Thank Heaven For Little Girls", "I Remember It Well", "When They Invented Champagne". Rating: 8 stars
---
South Pacific (1958) - Rossano Brazzi, Mitzi Gaynor, John Kerr
Swell movie. A Rogers and Hammerstein flick that deals with racial prejudices. When I finished watching this at 2:05 in the morning (yes, two a.m.), I said to myself, "What a wonderful movie." Of course, I only did that so that I could put it in this review and sound cheesy without lying. But, really, I meant it. Score includes "Younger Than Springtime", "Happy Talk", "Some Enchanted Evening", "You've Got to Be Taught", "My Girl Back Home". Rating: 8 stars
---
Neptune's Daughter (1949) - Esther Williams, Ricardo Montalban, Betty Garrett (it's about time I saw a movie starring Garrett! :>), Red Skelton, Keenan Wynn, with Mel Blanc (who actually sounds like Speedy Gonzales in this one :b)
A hilarious screwball/romance, with mistaken identity and Skelton pretending to be Latin. :> If you're ever in the mood for an extremely funny movie, see this. Not to mention the wonderful Frank Loesser score, of course, which includes the wonderful Oscar-winning "Baby, It's Cold Outside", "My Heart Beats Faster". Rating: 7 1/2 stars
---
Lili (1953) - Leslie Caron, Mel Ferrer, Jean-Pierre Aumont, Zsa Zsa Gabor
A wonderful and lovely movie about a puppeteer (Ferrer) who uses his dummies (literally) to talk to Lili (Caron), who is too busy swooning over a magician (Aumont) to notice him. A really, as I said, lovely movie. Romantic, with two great ballets and a lovely theme song ("Hi-Lili, Hi-Lo"). (Er... I said that... sorry, no better adjectives.... :>) BTW, Aumont sure has multiple personalities -- from playing a shy Russian composer to a French playboy in this! Rating: 9 1/2 stars
---
West Side Story (1961) - Natalie Wood, Richard Breymer, Rita Moreno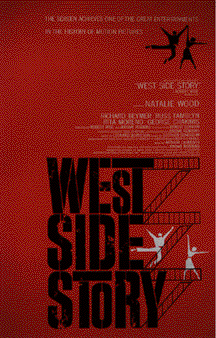 Whoa. Seriously, this is the first movie that had me crying at the end for a good reason. Okay, first of all, let me get across that this sticks very closely to the story of Romeo and Juliet (but I guess you have to have read the play or seen the original performance to know how closely, unless you've seen every movie version of it and evened out what was in the play and what was added....). It's a really really really swell movie. I have, like, not seen anything this great in a long time. It's very romantic, with some funny parts, and, golly, I think I cried several different times during the movie.... I cried for the last ten minutes, and sat gaping dumbly during the credits (yes, the whole thing). I jumped out of my clothes when that lion roared at the end of the movie. =b Natalie Wood was dubbed by the usual ghost voice for Deborah Kerr, Marni Nixon. Actually, George Chakiris (Bernardo) was the only person in the movie not dubbed.... The swell songs (music by the unique and rhythmic Leonard Bernstein -- man, nothing matches the beats in his songs! -- and lyrics by Steven Sondheim) include "I Feel Pretty", "Maria", "Tonight", "Gee, Officer Krupke" (don't ask =b), "One Hand, One Heart". I think that all of the songs were really great, but that's my humble opinion -- my mother didn't like them (I'm trying to turn her into a Bernstein fan -- as you see, I'm rather failing =b). Swell dances by Jerome Robbins (he did other things for the flick, but this was apparent =b). Rating: 9 1/2 stars
Note: Best Picture of 1961 -- groovy. =b
---
Calamity Jane (1953) - Doris Day, Howard Keel
Eh. This is a musical about a tomboy who has to get a movie star into their deserted town of Deadwood -- well, she gets her... sort of. This is the first time ever that I have completely agreed with Pauline Kael about a movie -- this was pretty good, but the song "Secret Love" totally did not belong. Rating: 7 1/2 stars
---
Okay, that's a wrap....
If you have any comments or suggestions (or even additional reviews), e-mail me.
There's No Place Like
, There's No Place Like
....
(I couldn't help it - I love that show. Great cast. Judy, Jack, Ray....)
---

This page created with Netscape Navigator Gold



Click on the ribbon for more info.
This page created July 8, 1996 by Mallory Bolduc. Copyright (C) 1996-97. Do not use any pictures or articles from this page without permission. Thank you. Links are welcome. For permission to use contents of this page, e-mail me.